Kit Fox in Oil, Work in Progress Demo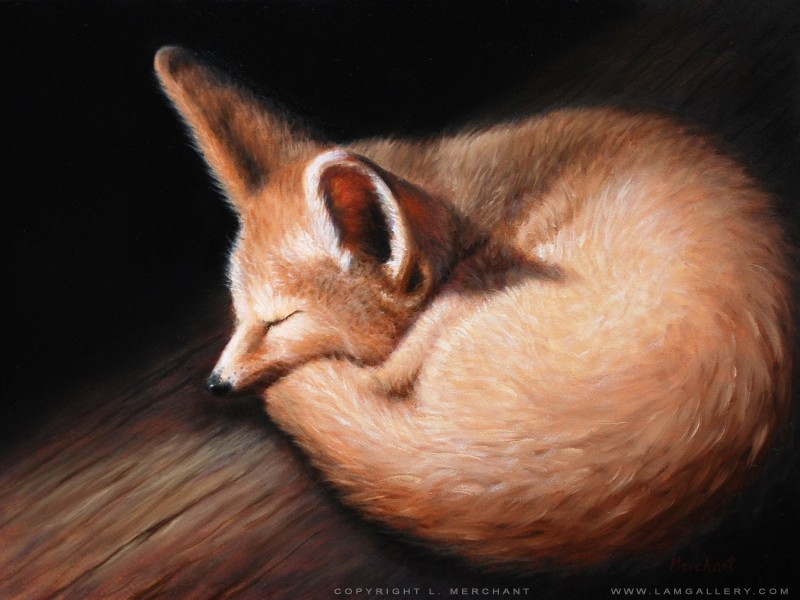 Kit Fox
Oil on Gessobord, 9x12, 2009


This is a WIP, so this is just the first layer. The idea is that fur is really easy in soft pastels, but I want to see if I can get the same effects if I did the painting in oils.

Since I've done this piece before, I'm able to lay down the paint fairly quickly without much thought, which is what is needed to appear loose anyways.
Here's the next layer - I'm trying to define the darks here, and add more definition to various areas. I'll continue to layer both light and dark fur, so the areas that are somewhat sloppy right now should be better in later layers.
I'm adding many many fur layers - the brush I'm using for the back is actually rather large - I'm using a #10 filbert turned on its edge - this gives a nice soft thick look to the hair. With fur, you typically want to work back to front, so that you don't go over the fur tips you've already laid in.

For the cream color, I'm using a mix of naples yellow, flesh tint, and white.
I used dioxazine purple to add some life to the darks, and did wet-on-wet with thick paint for the fur. The cream color is a combination of naples yellow, flesh tint, and white, and the darker fur is a mix of burnt sienna and burnt umber. I'm working from the tip of the tail backwards so that I don't overlap the tips of the fur.
The final painting.

I've used a filbert comb turned on its side to add the wispy fur, and added highlights throughout.